Energy Assistance Program
Energy Assistance Program
25 Sigourney Street, 10th Floor
Hartford, CT - 06106
(860) 424-5889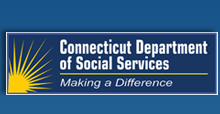 Winter heating assistance pays for a households primary heating source such as oil, natural gas, electricity, propane, kerosene, coal, wood and wood pellets on behalf of eligible households. The amount of heat assistance may not be sufficient to cover a households entire winter heating cost.

Homeowners and renters may apply.

Households eligible for the winter heating program may also be eligible to receive weatherization assistance. This can help conserve energy and lower heating bills.

The Connecticut Energy Assistance Program is administered by the Department of Social Services, and coordinated by regional Community Action Agencies, in cooperation with municipal and other non-profit human service agencies.

Mission Statement: The mission of the Department of Developmental Services is to partner with the individuals we support and their families, to support lifelong planning and to join with others to create and promote meaningful opportunities for individuals to fully participate as valued members of their communities.
Do you have an experience with Energy Assistance Program? Let us know about it.
Add a review