Matthew 25 AIDS Services
452 Old Corydon Rd
Henderson, KY - 42420
(270) 826-0200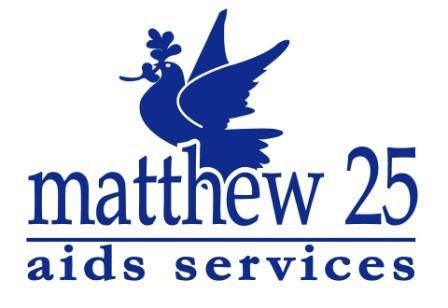 Services:Provides Comprehensive Care for persons with HIV/AIDS. Medical care, case management, support services, and housing programs. Also have many HIVprevention programs for the community including rapid testing.
Clinical Satellite twice monthly in Owensboro Health Department at 1600 Breckinridge,Owensboro, KY serves all Barren River Area counties as well as all GRADD Area counties.
Mission Statement: We exist to support, educate and treat those infected with and affected by HIV/AIDS. We recognize that HIV/AIDS is a real disease affecting real people and because of that understanding, Real(istic) prevention and treatment is the only way to fight the continuing spread of HIV.
User questions and answers
Help our users find out more about Matthew 25 AIDS Services.




Do you have an experience with Matthew 25 AIDS Services? Let us know about it.
Add a review